Become a PUTTY BUDDIES and EAR BAND-IT Reseller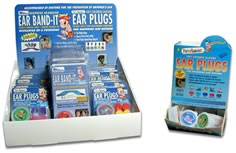 PUTTY BUDDIES and EAR BAND-IT are great products for physicians and clinics to have on hand for sale, because at some point almost everyone needs to block water or filter sound from their ears. What's more, they represent the state of the art in worry-free ear-protection technology.
Entry Japan is committed to helping physicians and clinics improve their patients' quality of life by making these highly attractive products available through a special Reseller's Program. Qualified resellers are entitled to the following:
Special wholesale pricing plans to permit attractive profit margin and retail pricing
100% return guarantee for both PUTTY BUDDIES and EAR BAND-IT products
Free samples for nurse and staff training on proper use of these products
Attractive packaging and special laminated display with instructions and example applications
Support through Internet
For more information about becoming a qualified reseller, please contact Entry Japan by email, telephone, or fax.
Phone in Japan: 03-5362-3383 (Outside of Japan: +81-3-3406-6838)
Fax in Japan: 03-5774-5169 (Outside of Japan: +81-3-5774-5169)
Email:Inquiry