EAR FUNCTION
The ear has three main sections: the outer, the middle, and the inner ear.
The outer ear includes the fleshy external ear on the outside of your head and the ear canal up to the eardrum. The outer ear captures sound and slightly magnifies it in the ear canal. The magnification occurs when the sound wave is compressed in the gradually narrowing ear canal.
The middle ear begins at the ear drum and includes the three tiniest bones (ossicles) in the body: the maleous (hammer), incus (anvil), and the stapes (stirrup). The tiny bones vibrate in accordance with the sound wave and magnify the sound signal. If the sound is too loud (i.e., 80 or 90 decibels from something like a motorcycle), then the middle ear tries to damp the sound. The middle ear is connected to the back of the throat by the Eustachian tube, which allows air into the middle ear. The Eustachian tube keeps the ear dry and allows the air pressure in the middle ear to be adjusted.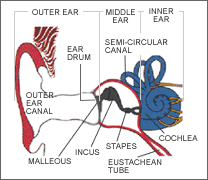 The inner ear takes vibrations from the middle ear and transforms them into an electrical signal that is carried by the hearing nerve to the brain. The brain interprets the electrical signal and we experience sound. Specifically, it is the organ of Corti within the inner ear that transfers the vibrations from the middle ear into an electrical signal.Loud noises damage hair cells in the organ of Corti. Once they are damaged, the electrical signals cannot be made, and therefore the hearing nerve cannot communicate sound information to the brain.
Problems in any of the three parts of the ear can affect hearing. For example, excessive earwax or other obstructions in the ear canal can block out the sound wave before it reaches the middle ear. Fluid in the middle ear as a result of infection impairs the vibrating of the tiny bones; therefore, sound that enters the outer ear is not magnified and passed on to the inner ear. Finally, damage to the inner ear by exposure to loud noise can prevent the brain from receiving a sound signal.
Australian Hearing, NFR2142.
Practical Otology, Daniel J. Pender, J. B. Lippincott Company, 1992.