Powerbreathe inspiratory muscle trainer
POWERbreathe is a hand-held inspiratory muscle trainer. This unique, easy-to-use, drug free device is designed to help reduce breathlessness, improve fitness and maximize sports performance. We congratulate the England Rugby Squad, 2003 Rugby World Cup champions. POWERbreathe has played a key part of National Fitness Coach, Dave Reddin's program for preparing the team over the past three years.
Reasons to Use the Power Breathe
Proven. Researched and developed by SPORTS SCIENTISTS at Birmingham University (one of the UK's leading Human Performance Research Universities) and Loughborough University.
Easy. Only 30 BREATHS TWICE A DAY will lead to stronger inspiratory muscles - the muscles we use to breathe in.
Quick results. You should feel stronger within a few days, within 3 weeks less breathless and within 4 weeks your performance should improve.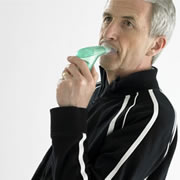 When POWERbreathe makes sense
Backed by 10 YEARS OF RESEARCH, POWERbreathe can assist the following conditions:
Athletic Performance: Time trial performance improves in elite rowers and cyclists by as much as 4.6%.
Endurance: In laboratory controlled tests POWERbreathe training has elicited improvements in endurance performance by over 30%. .
ASTHMA...in randomised, controlled trials on mild/moderate asthmatics, POWERbreathe increased inspiratory muscle strength by an average of 11% in just 3 weeks.
DYSPONEA: difficult breathing and shortness of breath associated with many disorders. Training of the inspiratory muscles has been demonstrated to reduce exertional dysponoea.
CHRONIC OBSTRUCTIVE LUNG DISEASE (COPD): In randomized, controlled trials, improvements in inspiratory muscle strength of 55% and endurance of 86%.
Specifications
There are three models designed for specific uses.
Wellness (green)
Fitness (blue)
Sports Performance (red)
POWERbreathe's have a spring loaded mechanism which is adjustable and determines the level of resistance. Additionally, each of the three models comes with a different spring that has a tension determined for its use. The unique spring design of POWERbreathe ensures that the tension cannot be affected by the rate at which you breathe. Older technologies for strengthening the inspiratory muscles were affected by the rate at which you breathe and have since been largely discredited by the medical field.
The red Sports Performance unit, has the strongest spring, and is aimed at athletes who wish to boost their performance. The Blue Fitness model has a mid-tensioned spring and is therefore aimed at people who exercise and want to increase their fitness. The Green Wellness unit has the weakest spring and is, therefore, aimed at those with the weakest inspiratory muscles, including asthma sufferers.