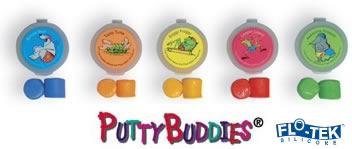 PUTTY BUDDIES Ear Plugs
Ensures worry-free swimming and bathing
Protects from noise-induced hearing-loss
Provides deeper sleeps
Improves concentration
PUTTY BUDDIES are a soft, pliable silicone ear plug. They were originally made to reliably and comfortably block water out of the ears. The third generation of the plugs which use FLO-TEK™ silicone offer the option of blocking out sound or letting in sound. Swimmers/Surfers want to hear coaches and friends; therefore, they wear the plugs shallow in the ear canal and fit them to the outer ear. Students and those looking for a better sleep wear the plugs a bit deeper in the ear canal to block out sound.
The new, U.S patent pending FLO-TEK silicone plugs are easy find in the tub or bath because they float! They are also better for sleeping since separate from the hair easily.
Although PUTTY BUDDIES fit securely to the ear by themselves, young children may not use apt care and attention when putting them in, or may easily pull them out during use. When used in combination with an EAR BAND-IT headband, parents can rest assured that their child's ears will stay protected.
More reasons to choose PUTTY BUDDIES
100% guarantee for a secure, custom fit to any size of ear
Patented FLO-TEK silicone is soft and comfortable. It doesn't scrape the ears or swell once it is in the ears
FLO-TEK silicone floats, making plugs easy to find and prevents them from becoming trapped in pool filters
Shallow insertion means cerumen (ear wax) will not be pushed toward the ear drum and clog the ear canal
Over 1 million sold since 1999
Available in cool neon colors: Green, Yellow, Blue, Orange, Red
Directions for Use

(1) Knead a plug
(2) Form into a ball

(3) Place over ear canal

(4) Flatten and spread

(5) Cover the ear opening

(6) Push up from behind the ear and pull out

Note: Do not make a cone of the plug and stick it in the canal.
PUTTY BUDDIES and EAR BAND-IT are registered trademarks of JACO Enterprises.