Comply Snap Tips
Comply Snap Tips are dynamic, slow-recovery foam tips that change shape to fit your dynamic ear canal as they warm to your body temperature.
Your ear canal moves as you talk and chew, getting bigger when you open your mouth and smaller when you close it. The shape of the high-tech foam Snap Tip changes to match the size and shape of your ear canal with any jaw movements you make. Snap Tips eliminate the discomfort and the feedback (squeal) that can result from other non-dynamic earmold options.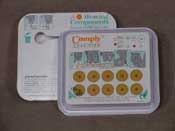 Specifications
Skin tone tips made of high tech slow recovery foam that can replace a custom ear mold
Foam softens when it reaches body temperature to form an active seal in the ear canal
Built in cerumen filter is acoustically transparent
For exclusive use with patented Earpieces to ensure secure and easy fitting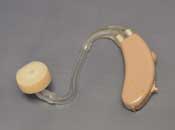 Benefits
Unsurpassed comfort and feedback control
Cosmetically more appealing
Easy earmold population management
Instant fit
No retubing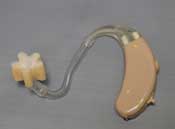 Precautions
Change the Snap Tip when it looks dirty, foam does not recover or tip layers separate
Stop using Snap Tips if ear canal becomes sore
Snap Tips are not for use by children without adult supervision
Snap Tips are NOT recommended if a patient:

Has a draining ear
Uses ear drops, ointments, lotions, salves or sprays in the ear canal
Has poor vision or hand control
Is unable to check tip daily
Usage Instructions
Hold earpiece between thumb and forefinger along sides of the adapter. Firmly push straight down into center of Snap Tip until you feel the "snap." Firmly pull straight up to remove tip from package.
Compress foam tip with fingers and insert into ear canal past the first bend of the canal.
Hold earpiece and tip in place and allow foam to expand in the ear canal for 20 seconds.